Sky Racket
Sky Racket - Performance Upgrades & Nintendo Indie World!
---
Our beloved heroes got some performance upgrades on their scarves and rackets! Now they can fly so much better that they were even featured at the Nintendo Indie World Showcase to let you know that Sky Racket is now available on the Nintendo Switch!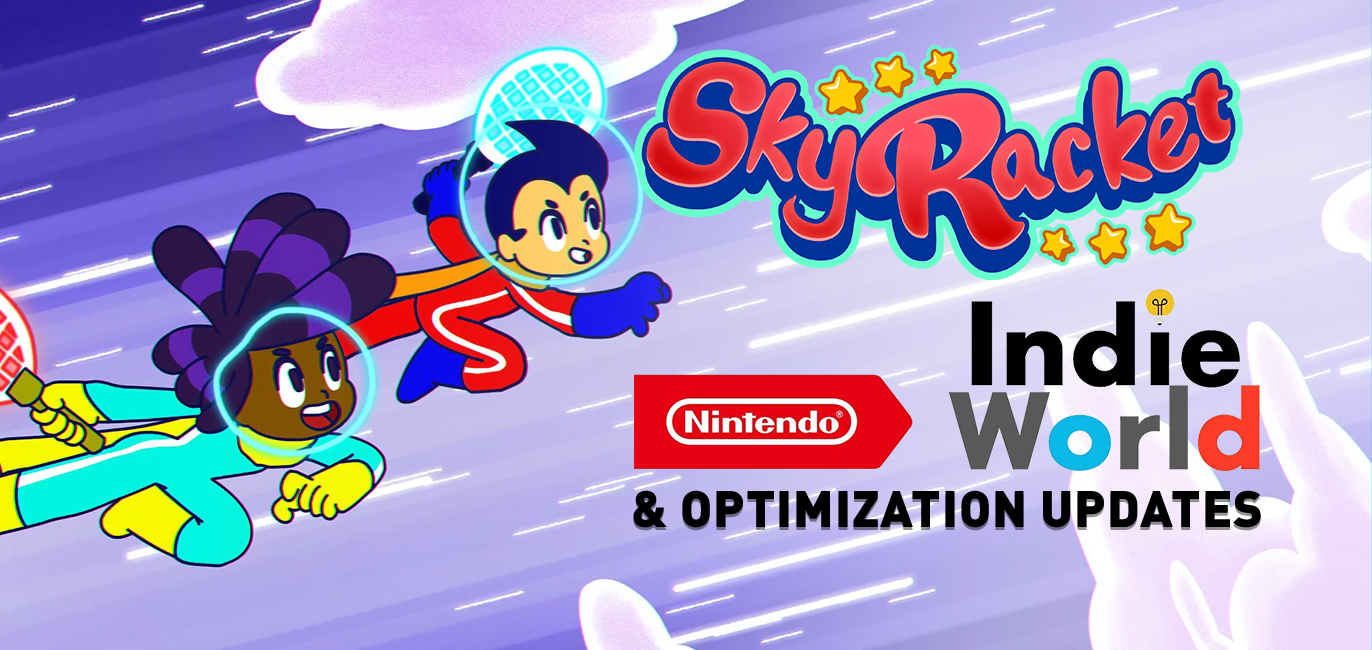 About the Update
A lot of things happened since the release of Sky Racket (October 2019) and we've spent the last months working hard to make it an even better experience for you all. Our objective was optimizing the game, making it more accessible for less bulky computers and polishing a few graphical and gameplay issues reported by our players.
Updates
We have created a loading screen, so there are no more moments where you are just waiting on a black screen with no idea of what's going on. There's a cute little animation with RacketBoy and RacketGirl to pass the time. We also used this screen to give away some tips and trivia about the game.

We also used this Loading moment to improve our pre-loading of level elements to optimize how they spawn in the game and reduce lagging. We want the game running as smooth as possible in less powerful machines!

Recreating the "movement calculation system": Now our enemies and background objects will use a lot less processing power from your CPU, saving up calculations that, previously, had to be done numerous times. Now movement is a lot smarter! :3
Adjustments on the way the game creates and destroys elements in the game that are necessary for each level in the game, optimizing memory use and management and improving game performance.
Proofread some translated texts in the game.
Updated and created several "rumble moments" for whoever uses rumble controls (such as the Xbox controller or Dual Shock) to increase immersion in the game (plus it's really fun!)
Nintendo Indie World
We have great news! Sky Racket was just released for the Nintendo Switch! We were also selected by the Big N to feature on their Indie World Showcase, where they announced the game's release.
To us is a big accomplishment to have our game being recognized through this event, where only the best indie games are featured! Take a look at our new Launch Trailer:

Discord
If you're willing to know more details about this update, ask questions or just chat with us, get on our Discord.
We are always eager to hear suggestions for our next steps and improvements. What do you think about being part of this? Let us know what you think!

Files
skyracket-demo-windows.zip
318 MB
Mar 18, 2020
skyracket-demo-osx.zip
321 MB
Mar 18, 2020
skyracket-demo-linux.zip
234 MB
Nov 07, 2019
skyracket-windows.zip
225 MB
Mar 18, 2020
skyracket-linux.zip
151 MB
Nov 07, 2019